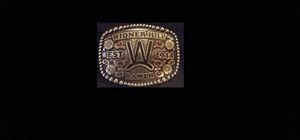 Cody Widner's brand of music is like wearing your favorite pair of faded jeans with a new pair of custom boots.....  The depth of his lyrics and the richness of his voice are unmistakably pure country, reminiscent of hero's passed, but yet new born.  It's been described as modern roots......
The roots do indeed run deep for this Texas native, born and raised in heart of the East Texas Pineywoods.  Hailing From the small map dot of Colmesneil, Texas where he was an All-State High School Football player and Track athlete.  It was during these year's that another singer from the same part of Texas, George Jones, returned home to start his music park there.  The legends that came thru that little town and performed at Jones' park would serve as the fertile foundation for Cody's music.
After graduating high school in 1995, Cody continued his two sport athletic career at Sam Houston State University, only to have it cut short with injury. While continuing his education at SHSU he worked with the Bearkat Football Coaching Staff for another two seasons.  It was during this time he turned to the legends of his youth and began to find his own voice in his music.
Cody and his guitar quickly became a regular with the Huntsville party crowd.  It was with that crowd at historic bars like Murski's and The Jolly Fox, that Cody realized his true calling.  In his Junior year, he left SAM to chase the dream.....
 in 1999 he signed with veteran Manager Walt Turner out of the Austin area, who paved the way for forming Cody Widner Productions and bringing accomplished artist and musician Benny McArthur into the mix.  McArthur, a veteran member of the legendary Ace In The Hole Band, produced both of Cody's first two albums, "Right Where I Belong" and "Honky Tonk Heart".  Both Albums boasted world class musician talent, with contributions from other members of The Ace In The Hole Band as well as Asleep at the Wheel.  The "Honky Tonk" Heart album was recorded for the Dreamkeeper Record label at Ray Benson's Bismeaux Studio in Austin, TX in 2005. 
With "Honky Tonk Heart" Cody gained traction with radio stations across Texas and soon found himself topping many of the stations weekly countdowns.  As a result, two singles were released nationally to independent radio stations.  The first single, "When the Smoke Clears"  reached #1 on the National Independent Charts.  With this single in strong rotation, Widner played for large crowds at rodeo's and fairs across Texas and eventually Nashville with the CMA festival.  He opened for national stars like Tracy Byrd,  Asleep at the Wheel and Regional Red Dirt Country acts like Robert Earl Keen and Cross Canadian Ragweed.  With a second release, "Drinkin' Doubles", written by Cody and Benny McArthur climbing the national charts, it appeared that Cody was on a collision course with stardom.
However, the music business is a business at the end of the day.  The dollars it takes to promote a national act was more than the small production company could muster and Nashville was going more mainstream, contemporary at the time which left no space for a new, traditional country act.  Even as "Drinkin Doubles" also reached #1 on the indie charts.
Frustrated with the music industry and broke, Cody Widner just walked off the stage..........
For the next decade he was absent from the music scene, completely. No appearances, no records, no songs.  Content he thought to leave music behind, he found freedom from the stress of the industry and the pressure to succeed.  He married the love of his life, Vicki and had two daughters; Kassidy and Kalli.  Eventually, returning home to East Texas to raise his children as he had grown up.
 But destiny has a funny way of refusing to be snubbed.  In 2019, renowned guitarist and artist Gary Lee Cox (Cody's brother in law) convinced Cody to play a few shows with him and his band, The Lonestar Souvenirs.  Cody said, "It was as if God turned on the spotlight this time and asked where have you been?"   You see, you can take the man out of the music, but you can't take the music out of the man.
The journey that Cody has taken was meant to be.  To bring him back to his roots and the true heartbeat of the music.......the fans......  Cody says it best in his personal tune "Cody's Song" - "If I never win a Grammy or make the Country Music News. I've already hit the big time...... singin' right here for you."